The Repeater Station
Design (RIBA Stages 0-7)
On January 18th, 2017 we purchased a plot of land near Norman's Cross, Peterborough. The site had been occupied by a BT Repeater Station, which had been disused since 2003. The aim was to demolish the existing single story, brick building and in its place erect a simplistic and contemporary clad box, that merges into farmhouse vernacular. The new studio space looked to utilise the sites ideal position over looking Normans Cross. Now a field occupied by a herd of cows, it was previously the world's first purpose-built prisoner of war camp, built during the Napoleonic Wars by the Navy. The sites historic status also means that this area of land will never be built upon, as it is now classified as an ancient monument by English Heritage. The site itself has also featured on ITV news, due to heightened interest in what can be done with the previously redundant site (see link below). Not long after purchase a preliminary enquiry was submitted to the planning department, this was very successful and lead to a planning application with a proposal that pushed the boundaries of the previous scheme and maximised the building's footprint. This proposal was then accepted on July 18th exactly 6 months after purchase.
During
October 2017 was when the first works on site took place. The old BT Repeater station was no more, allowing the ground works to commence. Silver Heron Developments were appointed as the civil engineering company and lead this process. Ady and his team enabled this to be a fast and efficient process and come highly recommended. In November 2017, the ground shield foundations began to be installed. The ground preparation and services were put in place, which meant all that was left was a tough 3 days to complete the foundations. The chosen foundation type for the studio was AFT (advanced foundation technology). We had worked with AFT on several projects, this combined with the product's age of over 20 years old and the fact it is standard in Sweden, led us to have great confidence in the project resulting in us selecting it for our own project. AFT's ease to install meant that it was swiftly installed, allowing the erection of the main structure to begin. Structurally insulated panels (SIPs)were selected for the main body of the structure, due to them being a fast, cost effective and highly insulative (surpassing current building control standards) building solution. The erection began on the 4th December and was completed within 10 working days, slightly longer than expected due to adverse weather conditions. The SIPs were manufactured locally by SIPS UK, for more information on these and the other materials mentioned follow the links below.
https://www.advancedfoundationtechnologylimited.co.uk/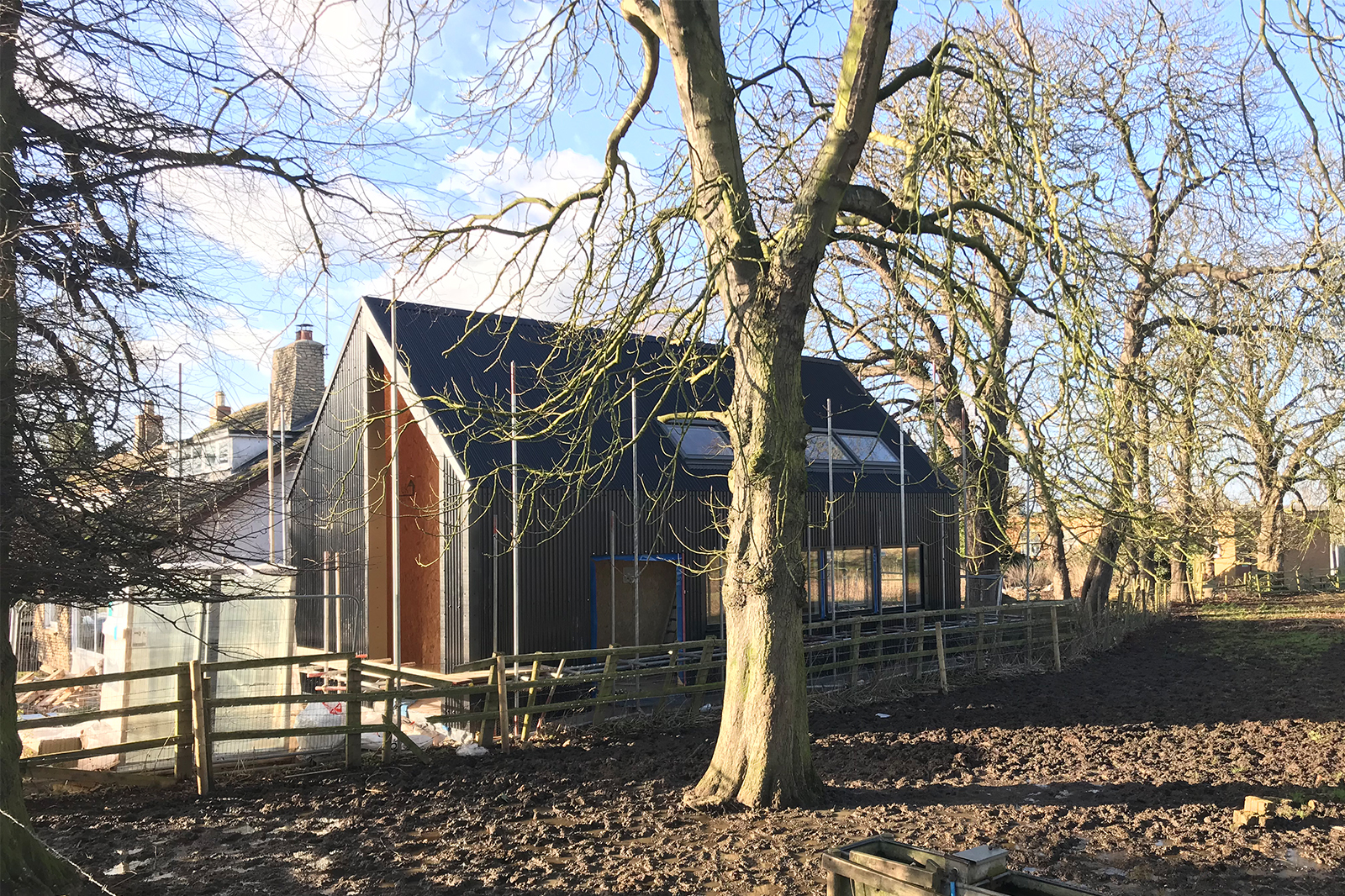 Completion
After much excitement and anticipation, we moved in on the 17th July. We have settled in nicely and are enjoying the daily escapades of our new Neighbours (the cows). The final building is a modernistic take on barn-style forms; clad vertically in noir coated corrugated steel. The interior follows the raw style of the outside, with exposed chipboard, steel and timber, offset against stark white plaster, with injections of orange (see pictures below of the completed studio). This all ties into the new and improved branding which we have already began to use.
We look forward to using the building to its full potential as we are hoping to have a new business (or businesses) starting in the first-floor studio soon. This has also begun to be fulfilled as we welcome Ellie and Nez as our new Architectural Assistants and to our team at TMV. Furthermore, we look forward to hosting clients and showing them what we can achieve first hand. Anyone passing by is welcome to come in and say hello and we look forward to seeing/meeting you.